Monday, April 23, 2012 at 9:06PM
Email Article
|
Print Article
| |
Permalink
Unfolding the Map
After traveling through Ubly and arriving at Port Huron, Michigan, we come to another crossroads where William Least Heat-Moon has to make a choice. While fate isn't riding on his choice this time, the symbolism of the crossroads means that sometime, somewhere, we all reach an intersection and must make choices that do have real significance in our lives. To find this intersection, take your soul to the map, and if someone is there with a contract for you to sign, you'd best resist the temptation.
Book Quote
"...so I headed east through Ubly, then down the edge of the Thumb, past more shoreline houses, to Port Huron....

"I had to decide. Either the eastward route through Detroit, Toledo and Cleveland, or it was a shorter northeast job through Canada...."
Blue Highways: Part 8, Chapter 1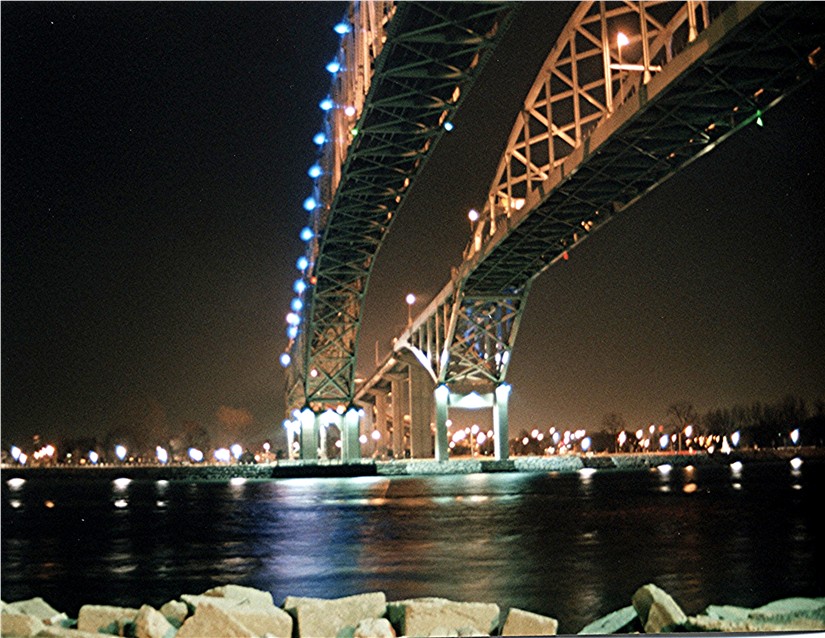 Port Huron bridges at night. Photo by Suzanne and hosted at City Data. Click on photo to go to host site.Ubly and Port Huron, Michigan
This is a difficult post. It's hard when LHM just mentions a place without any kind of description. Ubly and Port Huron, both possibly nice places (I've never been to either), are just glossed over as he tries to decide his next route.
One of life's little crossroads confronts LHM in this quote. Crossroads are a very good symbol for all choices in life. One can face literal crossroads, like LHM, in which he has to decide whether to take one route over another. Or one can face a metaphorical crossroads, in which choices need to be made. Either way, there are often unknowns that will be faced by taking one route over another. Sometimes, if taking one way or the other leads to knowns, the choices might still not be clear. One way may be better than another. One way may be more difficult. The supposedly easy way might have traps and snares we aren't aware of.
In LHM's case, it's a simple choice of moving through Canada or the US. I've faced that choice before on driving trips from Milwaukee to the East Coast, depending on which way I've traveled. Sometimes, I would take a route along Interstate 80 through Indiana, Ohio and Pennsylvania. However, if I found myself in Detroit, I would have to make the same choice LHM did. Do I head around Lake Erie to the south and go back to I-80 or go through Toledo and Cleveland? Or do I just cross the river at Detroit into Canada and head across to western New York north of Lake Erie? Often the shortest distance was through Canada.
If you're LHM, your choice might be based mostly on this factor. You're writing a book about blue highways - those smaller, two-lane highways that are rarely traveled. You're also trying to avoid big cities, and the southern route after Port Huron lies through Detroit, Toledo and Cleveland - all pretty major cities. Canada would seem pretty attractive, and it would cut time off your trip.
Something that's pretty interesting, however is that by doing so LHM will completely avoid Ohio. He missed Ohio the first time around, and if he chooses to go through Canada, he'll miss it again. Ohio is known as "the heart of it all," but LHM's choices will cause him to miss the heart by traveling outside the "body" that is the U.S.
In reality, then, LHM's choices will have an effect on his trip. He will either have to negotiate large cities or go out of his way to avoid them, or he will cut off a part of the United States in favor of speed and a little bit of a foreign country.
Physically then, a crossroads is a literal intersection. Most of us don't really pay attention to them. We pass intersections all the time. On a city street, I never think about all the intersections I pass. I usually have a place in mind to go to and a route mapped out in my head. But think about it - if I have a hesitation, or I if I don't really know where I'm going, an intersection becomes much more interesting and much more dangerous. My choice might lead to riches or ruin.
In a metaphorical sense, the crossroads has come to symbolize an intersection not only in the physical realm, but also a place between worlds. This place can be natural, supernatural, paranormal, or anything we subscribe to. I was just watching a Twilight Zone episode a couple of weeks prior, entitled Little Girl Lost, in which an intersection of dimensions causes a little girl who tumbles out of bed to disappear through a doorway into a different world. That intersection is a crossroads.
There is some potential danger involved with the crossroads. Some Christian superstitions have the Devil appearing to people at the crossroads at midnight. Borrowing from West African and voodoo tradition, Papa Legba shows up at the crossroads. The danger from these meetings is that a deal may be struck where one sells one's soul for something one wants.
A famous story is involves the bluesman Robert Johnson. He supposedly was a mediocre bluesman until one night he met the Devil at the crossroads, and exchanged his soul for a better guitar. From then on, the legend goes, he was the best blues player alive until his untimely death by poisoning at the age of 27. Hear a wonderful radio show, called Radiolab, explore the legend of Robert Johnson:
Another famous story about crossroads involves Oedipus, whose tragic fate began at the intersection of three roads when killed his father. This act, very symbolic in that he could have chosen another metaphorical life road, led to his marriage to his mother and eventually his downfall and blindness. Contrast this with Heracles, who stood at the crossroads and had to choose between Pleasure and a life of ease, or Virtue and a life of hardship and immortality. The ever-so-good Heracles chose Virtue. How many of us would do the same?
From these stories, it can be see that danger can lurk at the crossroads, but also hope. The Christian symbolism of the cross represents, of course, martyrdom but also hope and resurrection. I've made choices at my own life's crossroads, and sometimes have chosen the wrong way and have paid dearly for my choice. At other times, I've heeded my choices and chosen wisely, and have benefitted. The next time you come to an intersection, treat it with some respect. After all, it may not seem to be representative of anything, until you realize that every choice you've ever made, easy and difficult alike, as come at an intersection of paths.
Musical Interlude
As mentioned above, the legend of Robert Johnson is such that the crossroads, the devil and his amazing blues guitar playing is the stuff of legend. Enjoy the Crossroads Blues by this master of the Delta blues.
If you want to know more about Ubly and Port Huron
City of Port Huron
Port Huron Museum
Port Huron Times Herald (newspaper)
Village of Ubly
Wikipedia: Port Huron
Wikipedia: Ubly
Next up: Sarnia, Ontario